I combine three things to create a fourth
There are three elements that shape my work as a translator and transcreator, with their interaction forming a fourth element. A trilogy would be a good comparison, where three independent yet related parts join to form a complete work characterized by a harmonious inner unity.
The practical side.
How I can assist you in getting your German words out there in English …
English is my native language

German is my second language

How do I think? Interculturally
The focus of transcreation is on text that needs more than translation. It's not about saying the same thing in another language; it's about finding a way to achieve the same effect on your target audience in another language. Transcreation involves constructively combining three areas to make a fourth one: it is translation plus creation plus intercultural thinking.
Three elements guide me in my work: What I do every day is use language to bring people and cultures together – helping my clients accurately achieve their communication objectives, and building bridges while doing so.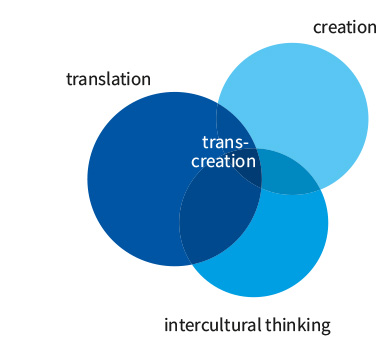 SERVICES
Translations
A bit more literally
Straightforward translation is the area where direct German to English translation is needed. This type of translation does not involve a great deal of freedom for interpretation or language transfer.
This type of translation is used for technical translations, translations of interviews or focus groups, questionnaires and backtranslations, for example.
Transcreation
Merging translation and creation
Transcreation requires much more than translation of the words – it is about recreation of the essence, and that indeed is the catch.
Transcreation is implemented to ensure your words, your message, your communication have the same impact in English as they do in German.
The German language is rich, colorful, full of idioms, proverbs, impressions of everyday life, creative plays on words, analogies and metaphors.
But when it comes to transferring content into English, well, that's a whole new ball game. Different countries have different customs, different ways of thinking and feeling, different cultural identities and characteristics.
Transcreation is the process of adapting the meaning and perceptively transferring content and messages, facts and emotions, moods and atmosphere.
Proofreading & Editing
Four eyes are better than two
The focus here is on reviewing and optimizing English texts written by non-native speakers and translations of other language service providers from German into English.
What's a rule without an exception?
It's a given that a high number of translations require both translation and transcreation.
Didn't find what you're looking for?
If you feel something is missing, or what you are looking for is not reflected in the services described here, please contact me so we can find the right solution for you.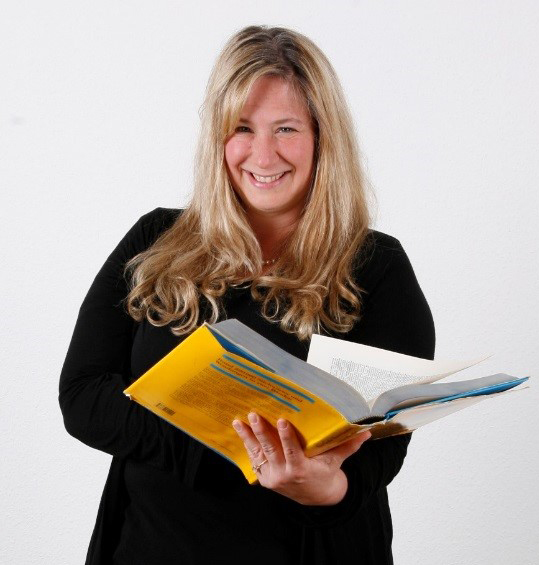 ROBIN LIMMEROTH
| WHO AM I?
Translations

Transcreation

Proofreading

Backtranslations

German-English (US and UK)

Native English speaker, fluent German speaker

Versatile range of expertise and experience

Creative and free translation, creative adaptations and word creations

Constructive, creative, agile and precise

Analytical and goal-oriented thinking

• Intercultural approach including intercultural thinking and consulting

...when the customer asked for someone who not only translates but basically creates a whole text from the source text, my first thoughts went straight to you...
David Kim from bmf text+ on Robin Limmeroth

PORTFOLIO
The spectrum covered by my language services
My broad spectrum is anything but a miscellaneous grab bag. Instead, it reflects my years of learning and experience, and its broadness and diversity maintain my curiosity and openness, and broaden my horizons every day anew.
If you don't find your industry or what you are looking for here, please don't hesitate to ask. I look forward to seeing how I can assist you.
AREAS OF EXPERTISE
Automotive

Beauty & cosmetics

Education & academia

Consumer goods

Specialized books

Food & beverages

Luxury products

Healthcare

Hotels & restaurants

Market & marketing research

Jewelry & fashion

Sports

Tourism

Advertising

Business and marketing

From A for automotive to Z for zinc ointment, my areas of expertise include everything that words can express.

AREAS OF USE

Corporate communication reflecting your image / corporate identity / brand(s)

Brand management

Public relations

Websites

Advertising texts, claims, slogans, headlines, copywriting, campaigns, creative advertising translations

Presentations, reports, summaries, one-pagers

Newsletters, flyers, brochures

Press releases

Catalogs, product descriptions

Transcripts, verbatims
MY NETWORK IS MY COMMUNITY
Contact me
ROBIN LIMMEROTH Translator and Transcreator An der Sandflora 5 55122 Mainz-Gonsenheim Phone 06131-688023 Fax 06131-688024 Cell 0179-2038541